Esther & Abi Ofarim
Israeli press "העולם הזה / This World"
1965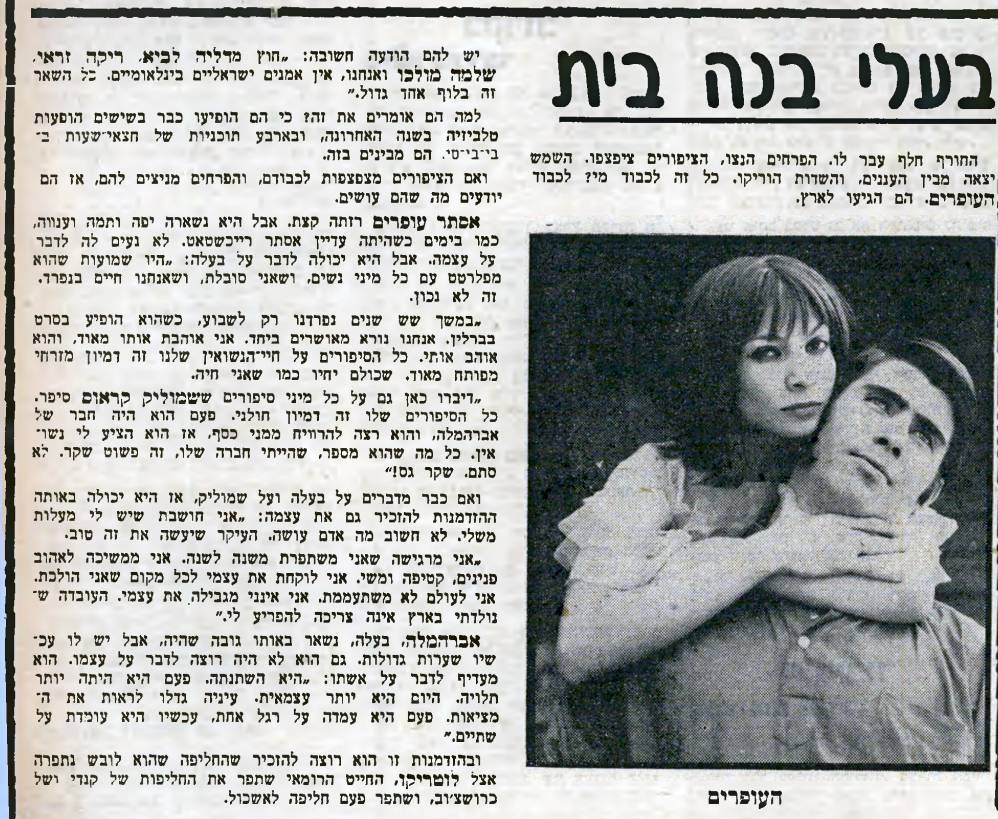 Rough English translation:
My husband built me ​​a house. The winter passed. The flowers were bright, the birds were honking. The sun out of the clouds, the fields were green. All this for whom? In honor of The Ofarim. They came to Israel. They have an important message: "Beside Dalia Lavi, Rika Zarai, Shlomo Molcho and us, there are no international Israeli artists. all the rest are a big lie (a bluff)." Why do they say that? Because they have already appeared in sixty appearances television programs in the past year, and four half- BBC. They understand that. And if the birds are honking in their honor, and the flowers are sparkling on them, so they are, they know what they're doing. Esther Ofarim thinned a little. But she remained beautiful and innocent and humble, as in the days when she was still Esther Reichsthat. She does not like talking about herself. But she could talk about her husband: "There were rumors that he was flirting with all sorts of women, and that I suffer, and that we live apart. This is not true. For six years we parted only for a week, when he appeared in the film In Berlin. We are very happy together. I love him very much, and he loves me. All the stories about our marriage life are oriental. Very developed. That everyone will live the way I live. " Also talk about all kinds of stories Shmulik Kraus said. All his stories are sickly. Once he was a friend of Avramale's. And he wanted to make money from me, so he offered me a marriage. Everything he says, that I was his girlfriend, is just a lie. Not just. Rough lie! " Speaking of her husband and Shmulik, she could do the same The opportunity to remind herself: "I think I have virtues proverbs. It does not matter what a person does. The main thing is to do it well. I feel like I'm getting better every year. I continue to love pearls, velvet and silk. I take myself wherever I go. I never get bored. I do not limit myself. The fact that I was born in Israel, doesn't bother (limit) me." Abrahamle, her husband, remained as tall as he had been, but he now has longer hair. He would not want to talk about himself either. He prefers to talk about his wife: "She's changed. Once she was more dependet. Today she is more independent. Her eyes grew to see reality. Once she stood on one leg, now she stands on two." And on this occasion he wants to mention that the suit he wears is sewn with Loterico, the Roman tailor who sewed the suits of Kennedy and Khrushchev, who once sewed a suit for Eshkol.