1972/1973 concert tour
Comeback - The new Esther Ofarim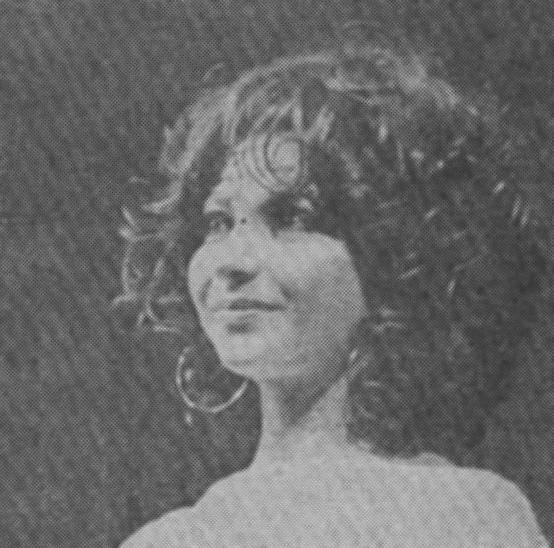 Esther Ofarim gave several concerts in 1972 and 1973 in Germany,
for ex. on December 17, 1972 in the Jahrhunderthalle in Frankfurt-Hoechst:


Concert poster of Frankfurt, December 17, 1972: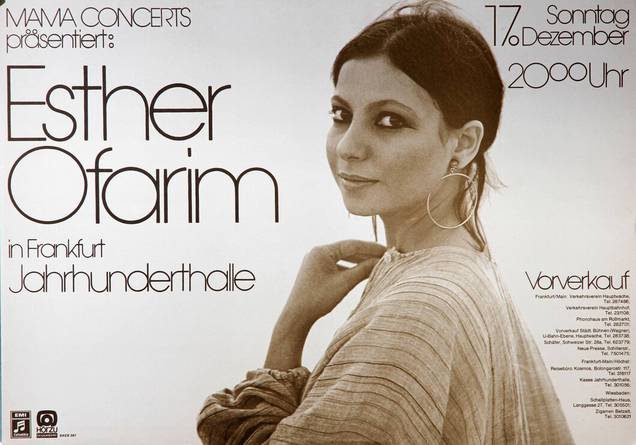 Also she performed in the Deutsches Theater, Munich: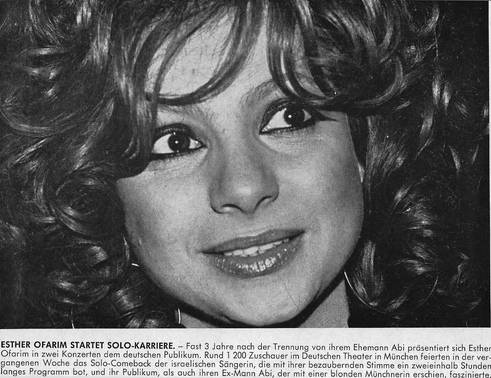 Fast 3 Jahre nach der Trennung von ihrem Ehemann Abi präsentiert sich Esther
Ofarim in zwei Konzerten dem deutschen Publikum. Rund 1200 Zuschauer im Deutschen Theater
in München feierten in der vergangenen Woche das Solo-Comeback der israelischen Sängerin,
die mit ihrer bezaubernden Stimme ein zweieinhalb Stunden langes Programm bot,
und ihr Publikum, als auch ihren Ex-Mann Abi, der mit einer blonden Müncherin erschien, faszinierte.
Translate!


And on January 18, 1973 in the Philharmonie, Berlin: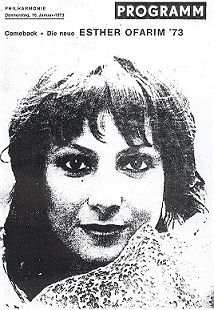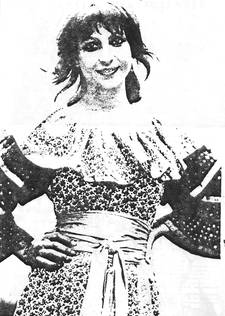 In this tour she also presented an unreleased song:
Noches Noches, a beautiful Ladino ballad,
which she only has sung at the Oriental Song Festival in Jerusalem 1972.
Die Sechs-Tage-Tournee der Esther Ofarim
Voller Erfolg!
Beifall, Jubel, ehrliche Anerkennung! Das hohe Niveau des Esther-Programms wurde als beispiellos im Show-Geschäft bezeichnet. Die Ofarim schlüpfte in eine zweite Haut, fand neue unverfälschte Ausdrucksformen, landete mitten im Kunstbezirk. "Bei deutschen Schlagersternchen werden sich die Depressionen mehren", befand DIE WELT, "denn Esther Ofarim ist wieder da und zeigt - wie man es machen könnte." Frankfurter Rundschau: "Comeback einer großen Stimme!" Die FAZ: "Vibrato, Intonation, Klangvielfalt." Der Berliner Tagesspiegel: "Talent im Überfluß". Münchens Abendzeitung: "Die Showbranche hat wieder einen Traum: Esther Ofarim!" Jawohl: einen Traum! Der Sieg einer verzauberten, verzaubernden Stimme. Esther Ofarim: das gelungene Comeback!
Translate!

Conductor: Erich Ferstl (guitar, piano etc.)
Flute: Max Hecker
Oboe: Fritz Strowitzki
Cello: Albrecht Riehle
Base: Branco Pejacovic
Beat: Meini Geppert


>> Song list:

Yo menamori de un aire
El condor pasa
Go tell it on the mountain
Sometimes I feel like a motherless child
Rakefet
My Fisherman
Kleiner Tambour
Pavane
 Ziununai Haderech (Shirat Hanoded)
Kinderspiele
Morning has broken
Song of the french partizan
Una matica de ruda
Moon of Alabama

Pause

Shedemati
Bird on the wire
Pamparapam
Noches Noches
La Scilitana
She's leaving home
Patric (Down by the river)
Guten Abend, gute Nacht
Waking up
Me emek ve give'a
Hayu Leilot
Mad about the boy