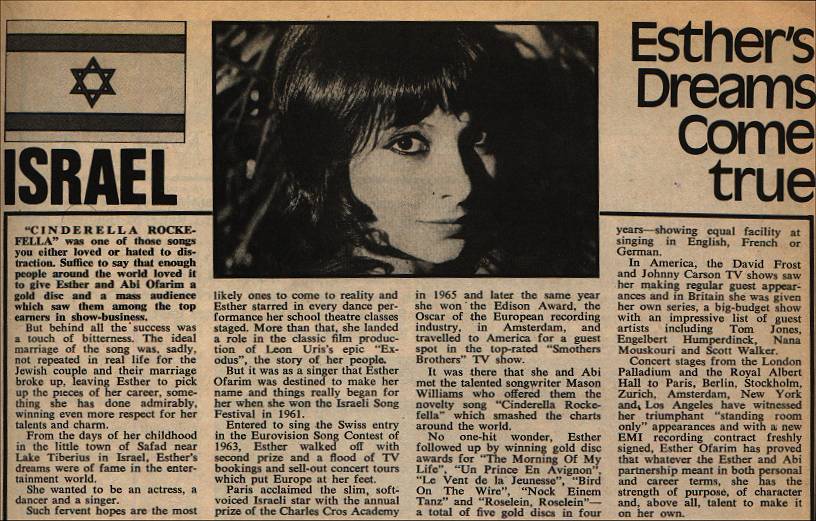 Article from Britain's magazine "Good Listening and Record Collector" - February 1973
Esther's Dreams Come True
"Cinderella Rockefella" was one of those songs you either loved or hated to distraction. Suffice to say that enough people around the world loved it to give Esther and Abi Ofarim a gold disc and a mass audience which saw them among the top earners in show-business.

But behind all the success was a touch of bitterness. The ideal marriage of the song was, sadly, not repeated in real life for the Jewish couple and their marriage broke up, leaving Esther to pick up the pieces of her career, something she has done admirably,
winning even more respect for her talents and charm.
From the days of her childhood in the little town of Safed near Lake Tiberius in Israel, Esther's dreams were of fame in the entertainment world.
She wanted to be and actress, a dancer and singer.
Such fervent hopes are the most likely ones to come to reality and Esther starred in every dance performance her school theatre classes staged. More than that, she landed a role in the classic film production of Leon Uris's epic "Exodus", the story of her people. But it was as a singer that Esther Oarim was destined to make her name and things really began for her when she won the Israeli Song Festival in 1961. Entered to sing the Swiss entry in the Eurovision Song Contest of 1963, Esther walked off with second prize and a flood of TV bookings and sell-out concert tours which put Euope at her feet.
Paris acclaimed the slim, soft-voiced Israeli star with the annual prize of the Charles Cros Academiy in 1965 and later the same year she won the Edison Award, the Oscar of the European recording industry, in Amsterdam, and travelled to America for a guest spot in the top-rated "Smothers Brothers" TV show.
It was there that she and Abi met the talented songwriter Mason Williams who offered them the novelty song "Cinderella Rockefella" which smashed the charts around the world. No one-hit wonder, Esther followed up by winning gold disc awards for "The morning of my life", "Un prince en Avignon", "Le vent et la jeunesse"; "Bird on the wire", "Noch einen Tanz"
and "Roselein, Roselein" - a total of five gold discs in four years - showing equal facility at singing in English, French or German.
In America, the David Frost and Johnny Carson TV shows saw her making regular guest appearances and in Britain she was given her own series, a big-budget show with an impressive list of guest artists including Tom Jones, Engelbert Humperdinck, Nana Mouskouri and Scott Walker.
Concert stages from the London Palladium and the Royal Albert Hall to Paris, Berlin, Stockholm, Zurich, Amsterdam, New York and Los Angeles have witnessed her triumphant "standing room only" appearances and with a new EMI recording contract freshly signed, Esther Ofarim has proved that whatever the Esther and Abi partnership meant in both personal and career terms, she has the strength of purpose, of character and, above all, talent to make it on her own.