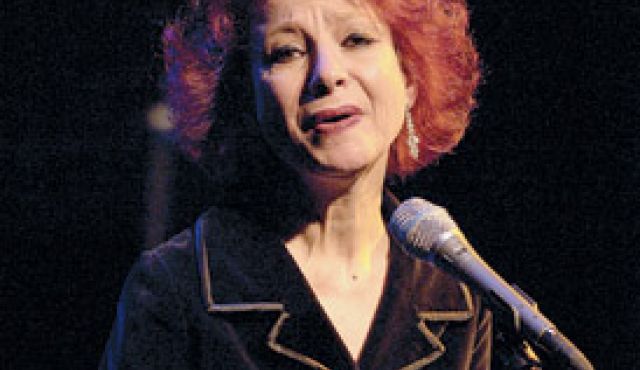 Ofarim's repertoire includes Hebrew music, songs by Leonard Cohen and the Beatles, and Renaissance and Baroque music. Photo by Getty Images
"I wake up rather early and everything moves very slowly," says Esther Ofarim, describing her life in Hamburg, Germany, where she has lived for the last 30 years. "This is what could be called a slow life. I listen to music that I love, watch the news on television, do all sorts of important and unimportant errands ... What else? Banal, regular things."
On September 28, Ofarim will make her sole appearance in Israel, as part of the Hebrew Song Festival in Rishon Letzion. She will perform with singer-composer-arranger Yoni Rechter, who has worked with her for more than 30 years.
Ofarim does not give many interviews and performs infrequently; this year she is making a total of six appearances, in Germany and Israel.
"It has been many years since I practiced yoga or meditation, but the life I lead is like meditation ... without thinking about big things and philosophy. I give myself time. That's how it works with me, but I don't give recommendations to anyone."
So you don't work every day?
Ofarim: "No, I can't understand how people do that."
Do you go to concerts? Theater?
"I read a lot. I watch historical, cultural programs on TV, but I'm not familiar with any series and don't watch movies on TV. Sometimes I go to the opera. Mostly what I absorb is from the literature I read."
Have you read any good books lately?
"Right now I am reading a book by Karen Armstrong about fundamentalism."
That doesn't exactly sound like taking life easily.
"I am well-connected to the world, but not to its nonsense."
In a telephone interview from her home, Ofarim speaks fluent Hebrew. She is a native speaker; she was born Esther Zaied in 1940 in Safed, and spent her childhood in Haifa.
"I started singing in nursery school," she recalls. "I've always sung. I was a soloist in school; I sang at all the ceremonies. That's how it started. Very simple and primitive."
At age 16 she met Avi Reichstadt, a young, handsome dancer and singer. Three years later the two married, and with singer Shmulik Kraus, formed the Shlishiyat Haofarim (Ofarim Trio) group. Kraus soon left, and the threesome turned into a duo and changed their last name to Ofarim.
In 1962, Israel sent Ofarim to appear at a festival in Poland as a soloist, where she performed the song "Stav" ("Fall"). After winning the competition, they moved to Geneva, to try their luck in Europe. A year later, Ofarim represented Switzerland in the Eurovision song contest. Had some votes not been changed at the final moment, she would have won.
She and Avi split their time between Switzerland and New York in the years that followed, and recorded several albums, while she also developed a solo career: Called "the nightingale from Haifa" in the German press, Ofarim was named singer of the year in Germany in 1966. Two of her albums - "Sing Hallelujah" and "That's Our Song" - went gold.
In 1968, the Ofarim duo released the song "Cinderella Rockefella," which won unprecedented international success for Israeli musicians. The song climbed to the top of the British charts, and earned the duo a place as legitimate European stars. They were invited to appear before Queen Elizabeth II at the Royal Albert Hall, and were seen at champagne-and-caviar parties with members of the Beatles and Nina Simone, a close friend of theirs. They performed at prestigious events in England and elsewhere.
"Recently somebody said he saw a clip on YouTube of me on David Frost's show. I don't have an Internet connection," Ofarim confesses, "so I haven't seen this, but I was on friendly terms with Frost, and he invited me to appear on his program in the late 1960s. After I sang 'Yesterday' by the Beatles, he said, 'Now I know why Israel won the war.'"
On her own
"I didn't feel like a star," Ofarim says. "Going to fancy restaurants and meeting famous people seemed natural. And I was never entirely pleased with myself. I had a friend at the time, Adi Semel [who later produced her appearances - L.P.], who kept telling me, 'You don't know how to enjoy yourself, you don't know how to have a good time.' My sense of responsibility was so heavy that it preempted any enjoyment."
Her husband wanted to enjoy the good life, whereas she yearned to stay home. He wanted them to keep producing soft pop songs like "Cinderella Rockefeller," whereas she was pulled toward other, more artistic, directions. The commercial side of the music was much less important to her.
In 1970 the two divorced and disbanded their successful duo. Avi underwent drug addiction and rehabilitation, and gave interviews in which he accused his ex-wife of egoism and snobbery. Esther kept working, quietly, at her own pace.
Since then, Ofarim has produced few studio albums; the last one was released more than 30 years ago. She continues to appear, mainly in Israel and Germany. Her repertoire is diverse and includes Hebrew music, along with songs by Kurt Weill, Leonard Cohen, Yoni Rechter and the Beatles, and Renaissance and Baroque music. Apart from her love for them, the common denominator linking these pieces is that they are not contemporary. The most recent song added to her repertoire is Cohen's "Hallelujah," from 1984.
How do you turn old material into something innovative, and "renew yourself" for each performance?
"It simply happens. There are other people around, musicians, arrangers. Yoni Rechter understands the spirit of these different songs, and he devises wonderful arrangements. It's simply a matter of loving the material, and connecting with it anew each time ... I have known Yoni since 1977. It's comfortable for me to work with him. I love him and he is talented, good-hearted, generous and very simple."
Why do you choose songs from different musical worlds? Isn't that complicated?
"I simply have the natural talent of connecting with a variety of musical worlds; I think my taste is very diverse. I love Gypsy music, Indian, Renaissance and Baroque music. During my first appearance in Israel I dared to sing an Orlando di Lasso song from the 17th century, alongside pieces like 'Mad About the Boy' and songs by Leonard Cohen and Yoni Rechter. For me, it's all beautiful; I love all of the songs."
What is planned for your upcoming performance in Israel?
"It's more or less the same as the one I gave in March in Israel. The basis is my old Israeli songs, plus some newer songs by Yoni Rechter. We will perform, along with a symphony orchestra, 'Somewhere,' from 'West Side Story,' which I haven't sung for a long time, and there will also be Cuban songs from the 1940s. Also, there will be Kurt Weill's 'Alabama Song,' which sounds very different when accompanied by a large orchestra."
Do you also listen to contemporary music?
"I have a 27-year-old son named David [from Ofarim's second marriage, to a German 18 years her junior. They separated in 2002], and I learn about recent music through him. He studies at the Berklee College of Music in Boston, and he sends me collections of things he loves. A few months ago he sent me a disc of Antony and the Johnsons, which I liked."
What about David's music? Do you like his style?
"Very much. He is working on an album, but it is taking a little time."
I know you are asked this in every interview, and you always say no, but is there a chance of you releasing a new album?
"They are talking with me about that very intensively, and I am perhaps starting to be interested. But, first of all, let me do the concerts I have scheduled. Maybe I will sit with Yoni for a little while, and we will think about songs."
Nasty whispers
In the mid-1960s, Israeli radio stations stopped playing songs by the Ofarim duo after they took up residence in Germany. Rumors spread that the couple had performed on Yom Kippur eve - in that country, of all places. When the couple arrived on their occasional visits to Israel, they were met by hostile glances and nasty whispers; they would escape to their hotel. The boycott of their work ended when Haim Topol met with Yitzhak Livni, head of Army Radio at the time, and explained that the duo made a point of performing at least one Israeli song during each concert, and stressed their Israeli identity.
Can I ask - would you appear in Ariel?
"I don't think they would invite me, because I am considered a traitor."
Do you think you're still seen that way?
"It doesn't really matter to me anymore. In the 1970s, I sang the 'Song of the French Partisan.' In Israel, they thought I was a traitor, as though I were performing the Fatah anthem; that was untrue. This is a song of French partisans who fought Nazis. The inanity continues all the time."
Do you think they're out to get you?
"No, and I don't care, but this was just one example of many things that happened to me. It's an example of ignorance, of a lack of authority and information."
But, again, if you were invited to Ariel, would you perform there?
"I don't even know where exactly Ariel is. When Ariel Sharon was minister of housing and construction I was asked, through him, to appear in the territories, but that didn't interest me. That's more or less the answer I have today. I don't like taking part in these wars when I am not there. Sometimes I feel that I have no right to be for or against things, in important cases like these."
Your repertoire includes quite a few Hebrew songs which over the years took on a highly nationalist cast, like those that are often sung on Memorial Day. Do you have trouble singing them today?
"I haven't sung 'Shir Hare'ut' ('The Song of Friendship' ) for many years. It is an anachronistic song, and it is not appropriate for performance today. When I sang it when I was 20, it suited the atmosphere and needs of Israel at the time. But if I sing 'Hayu Lailot' ('There Were Nights' ), I am singing, in my opinion, a song about love. It can be taken as a love song for Lake Kinneret, which I cherish because I was born in the area. I don't have any problem with what I sing, it is all legitimate."
Perhaps it is the distance you keep from the country that allows you to sing these songs? To what extent do you feel connected to what is happening in Israel today?
"What you say might be true, but for many years I had a subscription to Haaretz, and I read Gideon Levy and Amira Hass ... I know what is happening with you in Israel. Those songs do not, in my opinion, contrast with what is happening today, or what occurred yesterday. Beyond that, I relate to songs as something virtually eternal, so long as they convey truth or aesthetic beauty."
Where do you feel at home, in Germany or in Israel?
"I am always an outsider, both in Tel Aviv and in Hamburg. That's apparently the Jewish fate."
The fate of the Diaspora, or Jewish fate in general?
"I don't know the extent to which they [Israelis] feel like outsiders, because they feel as though they are lords of the land, but I'd rather not move in that very political direction. I was simply born an outsider. It's not connected to whether I am Israeli or Jewish in Europe. It's my temperament, my character; somehow, I am different."
Still, can you say where your heart belongs? In Israel, or in Germany?
"What did Yehuda Halevi say? 'My heart is in the east, and I in the uttermost west.' I don't know where [my heart] is, I guess in the left part of my body. It's a thing, a body part. I am where I am, and I am with people who are wise, so I feel comfortable."
What do you miss the most in Israel? Are there place you visit on each trip?
"My last trips to Jerusalem were good, but there was also something unpleasant, a sense of suffocation. But I really love the Galilee; I love the fact that there are Arab villages and you can buy things in them. I love that area."
Are there places you like in Tel Aviv?
"Yes, the beach, Rothschild Boulevard."
Do you speak German with your son?
"Yes, and also English, because that is now his language; he was born in New York. But mostly German; that is the culture he absorbed."
What language do you dream in?
"It depends what I am dreaming about. If I am dreaming that I am speaking with you, then it is in Hebrew."
In what language are you most comfortable?
"Hebrew - even though, regrettably, it's the language I use the least."
In recent interviews with Israeli media, you mentioned that you are considering returning to the country - are you still thinking of that?
"I think there's a chance this will happen, but I need a little push and help with logistics. How do you pack up your life? I have moved to many new apartments and cities, but I've never done it alone. It's a little scary. But I will find the way. It's not in the practical planning stages, but I'm thinking about it."
What makes you want to return?
"When I am in Tel Aviv, I really enjoy it, and perhaps I wouldn't feel like an outsider there."
Really?
"Well, no, not really. Perhaps the reason I'm thinking about it is that I want to be part of something that is real ... Perhaps I am just running away from myself."
'Fragility and strength'
Yoni Rechter will accompany Esther Ofarim in her upcoming appearance in Israel, along with the Israel Symphony Orchestra Rishon Letzion. What is special about Esther? Why is she such an icon in Israel?
Rechter: "In my opinion, she is not just an icon in Israel. Over the past 10 years I have appeared with her a lot in Germany and Europe, and despite the fact that she is a person who minimizes public relations, she is well-known there and has a large audience. She is a major singer, and in my opinion she has gotten better over the years. She grew all the time - first as a person and then as an artist. It's always interesting with her; something is always happening.
"In this regard, she is a bit like a jazz singer, because we continually improvise together. Despite the fact that we still sing the same songs, it is different each time. That's what makes her great. Also in rehearsals, she never just sings a song; she always sings it to its fullest, and in a different way each time. Beyond her great talent, she is an interesting, enigmatic person, and that certainly adds to her iconic stature." In her interview, she said she is considering making a new album. What do you say about that? Is there new material that you believe could work for her?
"That's good news. I didn't know about this, but I am always happy to play new material to her. She is not the sort of person who will sing any tune proposed to her; she knows what works for her. "There are songs that I loved and wanted us to do together, but she said that she couldn't because they were not right for her. 'I Saved the World Today,' by the Eurythmics, for example.
"Sometimes I have the feeling the audience wants to hear new things, but she is an uncompromising person. I think she has taste and character. She is committed to something without chasing trends and ratings, and I admire that and try to learn from it. Clearly she's not going to do rock and roll. Perhaps something ethnic and contemporary, we'll see."
How do you explain your long-standing, stable relationship? You have been accompanying her for more than 30 years.
"I don't have anything to say about that beyond tipping my hat to her. She is the only person with whom I have worked for 33 years, and she takes me along to every performance. We have a kind of freedom between us that allows us both artistic space, and yet, on the other hand, provides security, and this combination works well for both of us. I also never get tired [of working with her]."
Describe her in one sentence. "She is a riveting combination of fragility and strength."
taken from here http://www.haaretz.com/