פסטיבל הזמר
1961 Israel's Song Festival
with Esther Reichstat (Esther Ofarim)
רייכשטט רייכשטאט אסתר אסתר עופרים ester reichstadt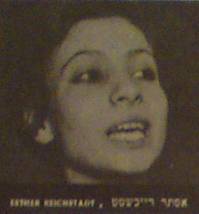 The Israeli Song Festival was an important cultural event in the history of Israeli music for 20 years.
17 Song Festivals were held, from 1960 until 1980, and 189 songs competed in them.
The best writers, composers and performers in Israel took part in them.
For quite a few of them, the Song Festival was their first attempt the show off their talent.



Esther Ofarim sang three beautiful songs and
won the contest in both first and second place!
She was accompagnied by the orchestra Kol Yisrael,
which was conducted by Gary Bertini
Saeini Imcha - Esther got the first prize! lyrics+mp3

Na'ama - second place for Esther! lyrics

Broshim - Esther's sixth place! lyrics
kol israel orchestra gery bertini

>> Listen to the live show here! <<
(Esther starts at minute 12:00 and continues at 30:00 + 50:40 + 55:40 + 1:07:36)




See little video of Esther sitting behind the stage at 00:14 and on the stage together with others at 00:26
click here!

pictures from the video:

| | | |
| --- | --- | --- |
| | | |




studio recordings of
Saeini and na'ama
are available here



accordeon sheets
of Saeini imcha bemachol

4 cd box with Saeini imcha + Na'ama


Israeli LP of the ten songs of Israel's Song Festival:
Kol Yisrael, mono, Israel, 1961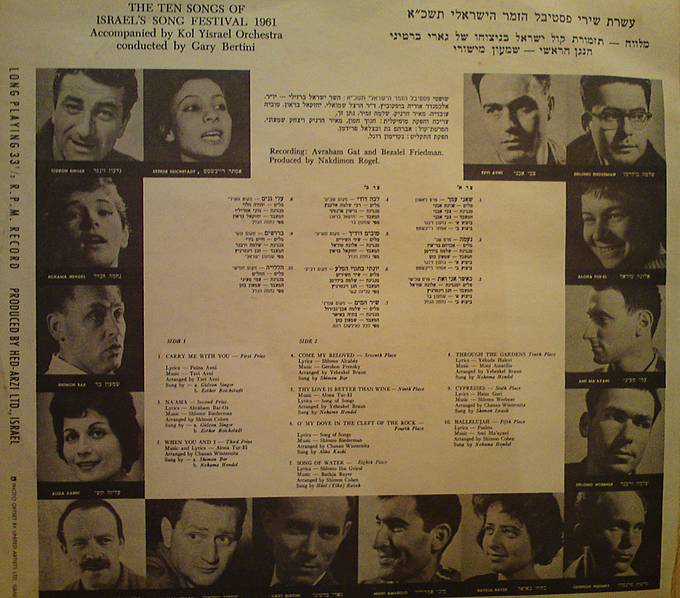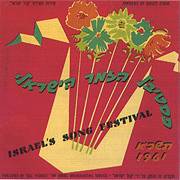 French LP edition:

Odeon, OSX 199 S, mono, France, 1961