March 18, 2010
Jerusalem Theatre, Israel
Concert of the Jerusalem Symphony Orchestra IBA
with Esther Ofarim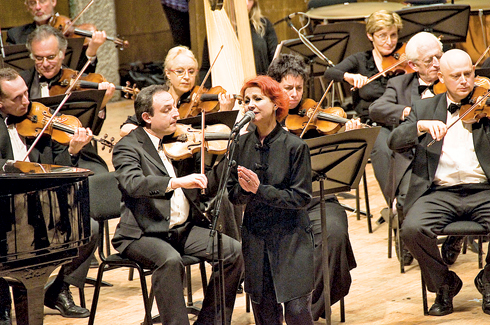 photo taken from mouse.co.il


Esther performed in concert with the Jerusalem Symphony Orchestra IBA, on March, 18th.
Beginning: 20.00 h. For more info, please see here.
"With Yoni Rechter, saxophonist Guri Agmon, flutist Ilan Salem, guitarist Yossi Levy and bassist Mickey Warshai
and a repertoire of Hebrew songs for the most part." info taken from haaretz.com
The concert has been transmitted live on Radio Gimmel, 20:00 Israel time (19:00 Europe time), see more info here.
read article of the press


Song list:

1. Hitragut
2. Hinach Yafa
3. Shir hanoded
4. D'maot shel malachim
5. Ve'ulay
6. Layla Layla
7. Ne'ula hi dalti
8. Pavane
9. Ten li yad listen to small sample mp3
10. Hallelujah
11. She's leaving home
12. Yesterday
13. Ma omrot eynaich
14. Me emek ve give'a
15. Moon of Alabama
16. Adio Querida
17. Shirat hanoded
18. Hayu Leilot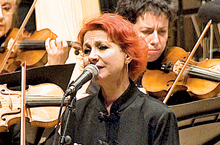 photo taken from mouse.co.il

---
Info before the concert: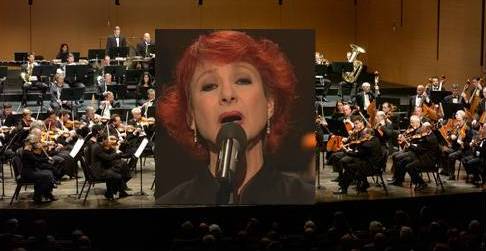 "Singer Esther Ofarim will perform at the annual fundraiser for the Association of Rape Crisis Centers in Israel on March 18 at the Jerusalem Theater. Ofarim, who will turn 70 this year, lives in Germany and rarely gives public performances. She will appear in the second part of the program, a chamber concert under the musical direction of Yoni Rechter, who has collaborated with her on projects since the 1970s. The first part of the evening will be a concert by the Jerusalem Symphony Orchestra conducted by Roni Porat. Ofarim began her career in the 1960s at the Habima Theater and as part of the Ofarim Duo, with her then-husband Abi Ofarim. In November 2008 she appeared in Israel, but stopped mid-performance because of noise made by the audience. (Noya Kohavi)" taken from haaretz.com