April 14, 2008
Theater am Tanzbrunnen, Cologne (Köln)
Concert with Esther Ofarim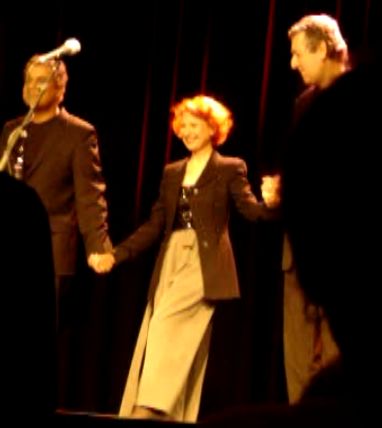 Esther performed in the Theater am Tanzbrunnen, Cologne April 14th. Beginning: 20.00 h - Website

The concert was wonderful and Esther in a very happy mood and perfect condition.
We enjoyed this wonderful evening and were very delighted about Esther's great and intensitive performance.
Now we're looking forward to her upcoming concerts in October and cannot wait until she will delight us again.

For video and audio please see at the bottom of this site!

Song list:
Part1:

Every night
Dirty old town
Pavane
Jerusalem
Layla Layla
Basade Patu'ach
Ten li yad
Germany before the war
Ma omrot eynaich
Shir eres / Do-do
September Song
She's leaving home
Intermezzo:

Midnight Dream (instrumental)
Song sung by Yoni Rechter


Part 2:

I only have eyes for you
Speak low
Over the rainbow
Me emek ve give'a
Adio Querida
Moon of Alabama
Bird on the wire
Mad about the boy

Encores / Zugaben:

Morning of my life
Frank Mills
Shir aviv / Gruß



Video of Shir Aviv / Gruß - to enlarge, click here

Extract of an interview with Esther Ofarim:
rundschau-online: Im März 1969 gaben Sie in Köln das letzte gemeinsame Konzert mit Abi. Erinnern Sie sich?l
Esther: Nein, ich weiß beim besten Willen nicht mehr, wo wir da aufgetreten sind. Aber eins weiß ich genau, dass ich nämlich seit dieser Zeit nicht mehr in Köln gesungen habe, und deshalb ist das Kölner Konzert ein ganz besonderes, auf das ich mich sehr freue.