Le cinéma de Michel Legrand († January 26, 2019)
4-CD-box with Esther Ofarim
Has been released on May 2, 2005.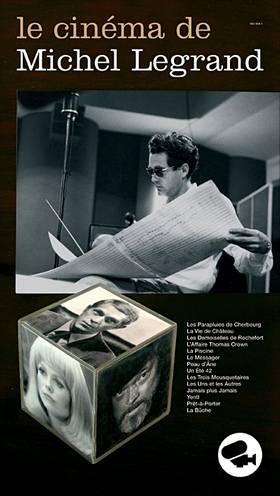 4 cd box, Emarcy (Universal Music Austria), 2005.
This cd collection contains Esther's beautiful song "to catch a pebble"
from the same-titled movie of 1970,
which has not been released on any other Esther Ofarim media before or after.

Buy it here!


Tracklist:
Disc 1
1. L'amérique insolite: Les délinquants (4:26)
2. L'amérique Insolite: Tango des jumeaux (1:57)
3. Lola: Chanson de Lola (2:14)
4. Lola: Roland rêve (2:18)
5. Une femme est une femme: Chanson d'Angela (2:27)
6. Une femme est une femme: Blues chez le Bougnat (2:13)
7. Cléo de 5 à 7: La belle p... (2:10)
8. La Baie des Agnes: L'amour et le jeu (thème principal) (2:13)
9. Eva: Eva (thème principal) (4:08)
10. Le Gentleman d'Epsom: Thème des courses (générique) (2:23)
11. Les Parapluies de Cherbourg: La gare (2:29)
12. Love Is a Ball: Be Free at Sea (3:05)
13. The Plastic Dome of Norma Jean: Norma Jean's Theme (2:55)
14. La vie de château: La vie de château (thème principal) (2:20)
15. Quie êtes-vous Polly Maggoo?: La ballade de Polly Maggoo (2:39)
16. Les demoiselles de Rochefort: Arrivée des camionneurs (4:24)
17. Les demoiselles de Rochefort: Chanson des jumelles (3:56)
18. L'homme à la buick: Fernadel à la douane (2:10)
19. A Matter of Innocence: Pretty Polly (2:20)
20. Play Dirty: Play Dirty (3:40)
21. Sweet November: Suite (7:19)
22. The Happy Ending: What Are You Doing the Rest of Your Life? (3:33)
23. The Happy Ending: Collage (2:49)
24. Ice Station Zebra: Overture (2:49)

Total Time: 72:57

Disc 2
1. The Thomas Crown Affair: The Windmills of Your Mind (2:21)
2. The Thomas Crown Affair: His Eyes, Her Eyes (2:16)
3. Castle Keep: Main Title (6:38)
4. Castle Keep: Horsemen in the Snow (1:40)
5. The Magic Garden of Stanley Sweethart: Nobody Knows (3:15)
6. The Magic Garden of Stanley Sweethart: Sweet Gingerbread Man (2:46)
7. La Piscine: One at a Time (4:50)
8. The Picasso Summer: A Summer Song (4:24)
9. Pieces of Dreams: Little Boy Lost (2:39)
10. The Lady in a Car with Glasses and a Gun: La dame dans l'auto (générique) (1:47)
11. The Go-Between: Main Title / The Letter (5:02)
12. Le Mans: Love Theme / The Race, First Laps (3:54)
13. Les mariés de l'an: Les mariés de l'an II (générique) (3:07)
14. To Catch a Pebble: To Catch a Pebble (3:04)
15. Peau d'Ane: Peau d'âne (générique début) (2:09)
16. Le gang des otages: Le gang des otages (2:45)
17. Oum le Dauphin: Thème d'Oum (1:52)
18. Brian's Song: Brian's Song (2:50)
19. Time for Loving: Paris Was Made for Lovers (2:37)
20. Time for Loving: A Place in Paris (2:32)
21. La poudre d'escampette: La poudre d'escampette (générique) (2:50)
22. Un peu de soleil dans l'eau froide: Dis-moi (2:39)
23. Portnoy's Complaint: Main Title (2:53)
24. La vieille fille: Suite (3:52)

Total Time: 74:42

Disc 3
1. Summer of '42: Theme From Summer of '42 (3:54)
2. Les feux de la chandeleur: Les feux de la chandeleur (5:13)
3. Un homme est mort: Un homme est mort (2:45)
4. The Adventures of Don Quixote: Suite (6:43)
5. Lady Sings the Blues: Happy (Love Theme) (2:56)
6. The Three Musketeers: Main Title (2:33)
7. The Three Musketeers: Sword for Your Supper (2:05)
8. The Three Musketeers: To Love a Queen (2:28)
9. The Three Musketeers: Dirty Business Amongst the Dirty Laundry (3:09)
10. Breezy: Walking on the Beach (2:49)
11. L'Événement le plus important depuis que l'homme a marché sur la lune: L'événement le plus important (instrumental) (3:25)
12. F for Fake: Orosn's Theme (3:26)
13. F for Fake: F for Fake (3:45)
14. Le sauvage: Le sauvage (thème principal) (3:51)
15. The Other Side of Midnight: Noelle's Theme (5:28)
16. Gable and Lombard: Love Theme (3:08)
17. A Cage Without a Key: A Cage Without a Key (3:47)
18. The Hunter: The Chase (4:11)
19. Mon premier amour: Mon premier amour (thème principal) (2:41)
20. Qu'est-ce qui fait courir David?: La trentaine (3:42)
21. Les uns et les autres: Un parfum de fin du monde (2:38)

Total Time: 74:37

Disc 4
1. Never Say Never Again: Never Say Never Again (3:06)
2. Never Say Never Again: Bond Returns Home / Chaser (2:42)
3. Yentl: The Way He Makes Me Feel (3:50)
4. The Jesse Owens Story: Jesse Owens' Theme (4:10)
5. Best Friends: How Do You Keep the Music Playing? (4:08)
6. Un amour en Allemagne: Variation sylvestre (3:20)
7. Secret Places: Secret Places (3:35)
8. Secret Places: End Theme (3:04)
9. Paroles et musique: One More Moment (2:36)
10. Parking: Bonheur de vivre (2:47)
11. Parking: Simplement (2:07)
12. Trois places pour le 26: Ciné qui chante (2:39)
13. Cinq jours en Juin: Love Makes the Changes (4:27)
14. Dingo: Paris Walking II (3:25)
15. Gaspard et Robinson: Un peu de ciel (5:16)
16. Prêt-à-Porter: Opening credits (3:22)
17. La Buche: Stanislas se souvient... (2:09)
18. La Bicyclette Bleue: Ouverture (4:00)
19. Le Cercle Rouge: Chassés-croisés (2:51)
20. Robin and Marian: Sean and Audrey (concerto grosso) (8:54)
21. Les Enfants de Lumière: Final (4:59)

Total Time: 77:27