November 20, 2008
Lufhansa: 40th anniversary of inaugural flight to Israel
celebration with Esther Ofarim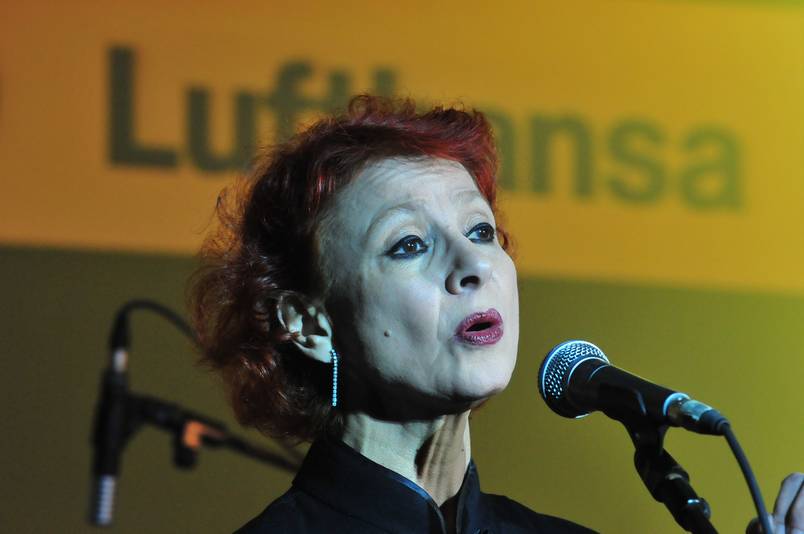 Equally well known in Israel and Germany – singer Esther Ofarim performed at the celebrations to mark the 40th anniversary of Lufthansa's inaugural flight to Israel. Photo: Tamar Matsafi



Lufthansa helps to build bridges
Celebrations held in Tel Aviv to mark 40th anniversary of inaugural flight to Israel

For 40 years, Lufthansa has been building bridges between Germany and Israel. Staff and representatives of industry and politics from both countries echoed that sentiment at the celebrations held in Tel Aviv on 20 November. "By providing mobility we bring societies and cultures together," said Wolfgang Mayrhuber. This was of special significance in relations between Israel and Germany, he added. "Our operations in Israel have a symbolic character. Both countries have a common past. Success is not as self-evident as it may be at many other destinations," noted Ofer Kisch, Lufthansa's General Manager in Israel. When Lufthansa took off for the first time for Tel Aviv with a Boeing 727 on 3 November 1968, the state of Israel had only existed for 20 years; not much time had passed since the end of the Holocaust. National carriers of other European countries such as British Airways had long since launched services to the Holy Land. In the first year of Lufthansa's twice-weekly service to Israel, about 1,200 passengers flew to Tel Aviv with the German airline. "At the outset, nobody thought that Lufthansa would one day become the biggest foreign airline in Israel," Ofer Kisch recalled. Thirty- five years after its inaugural flight to Tel Aviv, however, Lufthansa achieved that status, which it still maintains. Today Lufthansa operates 14 flights per week with wide-bodied aircraft from Frankfurt to Tel Aviv. More than 400,000 passengers flew the route with Lufthansa last year. "Israel is a key market for the Dubai area," explained Joachim
Steinbach, DXB EA. "Our corporate account activities in the market are exceptional." Lufthansa has 200,000 Miles & More customers
in Israel alone – a country with a population of seven million.
- Strengthening ties


Besides staff and retirees, top-ranking representatives of politics and industry from both countries were invited to the celebrations. Among them was the German ambassador to Israel, Dr. Harald Kindermann. He stressed the role played by Lufthansa is bringing the two countries together. "Lufthansa makes friends for Israel," he said. And Lufthansa is a friend of Israel, Wolfgang Mayrhuber added. During the event, the Lufthansa Chairman and Ofer Kisch paid trib-ute to the staff in Tel Aviv who had made a special contribution towards Lufthansa's success and presented them with first-day issue letters commemorating Lufthansa's inaugural flight. Among the recipients was Itzhak Zaroni, widely known at Lufthansa as "Chucky", who was responsible for PR from the outset until 2004. Both Wolfgang Mayrhuber and Ofer Kisch praised him for having raised Lufthansa's profile in the media in Israel. Richard Kalxdorff, Lufthansa's first representative in Israel, reminded those present of how difficult the early years had been – also politically. Visibly moved, he expressed his wish for peace for everyone in Israel. Lufthansa's success in Israel must continue, Wolfgang Mayrhuber said, adding that people there needed greater mobility. "For the past two years, attempts have been made to establish a new route from Munich. We hope that the aviation authorities on both sides will soon agree on a bilateral aviation accord to make this possible, Joachim Steinbach said. Markus Lison You can read more about Lufthansa in Israel in one of the forthcoming issues of Lufthanseat article and foto taken from Lufthanseat, November 28, 2008 / issue No. 1257 / 54th volume