Personal notes on the cd release of the 1973 Pathé Marconi album
by Robert van Leeuwen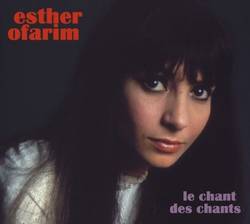 Well we had to wait a long time for the cd release of the Bob Johnston album.
And finally in June 2009 we got the magnificent Esther in London cd.
We, the older fans of Esther, knew there was yet another remaining last vinyl album of EMI,
still not re-issued on cd.
This was the album released in 1973 by Pathé Marconi, EMI's French record label,
which passed almost unnoticed and was quickly out of print.
Over time it turned into one of the rarest collector items of all Esther albums.
It remains one of Esther's last studio recordings of an album to date
(only followed by the NY "white" album and Complicated Ladies, both of 1982),
even though there were some previously released tracks included, as well.
They were the 3 French songs from the 1972 album with the Munich Philharmonic,
and 2 songs from the Bob Johnston album.
However, the quintessential part of the album were 4 ballads recorded in Paris with
the Georges Rabol orchestra, produced by Claude Dejacques*.
We, the older fans of Esther, who were lucky enough to obtain a copy of this album,
are unanimous about one thing: The Rabol orchestra is quite simply astonishing.
Playful, inventive and mesmerizing, Rabol, who was classically trained, lifted Esther's
singing to higher grounds.
Just listen to the French El Condor Pasa, when the strings and flute blend so beautifully
with Esther's voice in the refrain. I've never heard anything like that before or after.
The other ballads include French versions of two of Esther's traditional Hebrew songs,
Hayu Leiloth and Ziunionei Haderech (Shirat Hanoded).
The latter was given a much slower arrangement with Esther singing in a meditative way,
going straight to the heart.
The fourth ballad was a rather unexpected choice for Esther, a French version of
Carly Simon's "That's the way I've always heard it should be".
As I didn't know Carly's original at the time, this was the only entirely new melody to me then.
I was instantly mesmerized by that mystique haunting accompaniment, again by Rabol,
with Esther singing those long wistful notes, ending sky high. No one but Esther can do that, no one.
What an album opener!
The bonustracks of the cd would of course inevitably include the 1972 single with the Jean Musy
orchestra. But the EMI vaults also hid some previously unreleased tracks: an Italian version
of the 1972 French single and 2 entirely new French songs, a pretty ballad and humorous rock song.
All bonustracks are with the Jean Musy orchestra.
However, the "pièce de résistance" of the cd remains those 4 aforementioned ballads with the
Georges Rabol orchestra.
They belong in my humble opinion to Esther's best recordings, certainly of her French repertoire.
It is great that they have finally been digitally remastered, and that we can now enjoy them in a
'state of the art' sound quality, without any ticks or hisses, indigenous to wear and tear of vinyl records.
For that I would like to thank David Hadzis of Arthanor Productions, who initiated this project
and persevered to achieve the highest attainable quality in sound and artwork.
Robert van Leeuwen,
Amsterdam, January 21, 2011
*Claude Dejacques (who passed in 1998) was one of France's highest regarded producers of his time. He worked with
such established stars as Barbara, Aznavour, Brassens, Greco, Moustaki, Gainsbourg, Lama and Michel Legrand