DVD 2005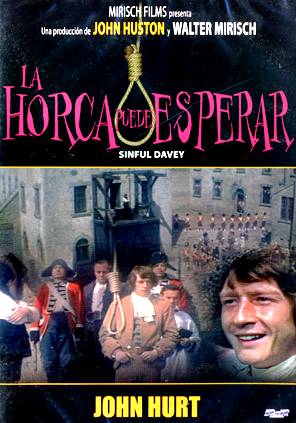 Sinful Davey - La Horca Puede Esperar
DVD in Spanish and Original English language
Movie from 1969 with Esther Ofarim's title song info + lyrics + video

buy this DVD at Amazon.de
or Amazon.com

see Soundtrack CD of it here


Original Title: Sinful Davey
German Title: Dave - zu haus in allen Betten
Spanish Title: La Horca Puede Esperar

Released in: 1969 (made in 1967)
Running Time: 95 min
Audio Track: Dolby Digital 2.0 English, Spanish
Optional Subtitles: None Listed
Region Code: 0 PAL
Video System: PAL
Aspect Ratio: Widescreen
Special Features: Interactive Menus, Scene Access
Director: John Huston
Starring: John Hurt, Pamela Franklin, Nigel Davenport, Ronald Fraser, Robert Morley,
Fidelma Murphy, Maxine Audley, Fionnula Flanagan

Review:
Davey Haggart (John Hurt) wishes to follow his father's footsteps and become a highway robber. He also wishes to avoid his father's fate -- which was death by hanging at the tender age of 21 after a botched robbery of the Duke of Argyle (Robert Morley). Davey commits a daring robbery in broad daylight with the help of two henchmen (Ronald Fraser and Fidelma Murphy) and heads for the highlands of Scotland to hide out. The local Constable (Nigel Davenport) warns young Davey he will end up just like his father but helps him escape the fate of dancing on the end of a rope. Annie (Pamela Franklin) is the kind-hearted farm girl who tries to make sweet Davey give up a life of crime and settle down.
This comedy was taken from the autobiographical diary"The Life Of David Haggart."

Inhalt:
Schottland zu Beginn des 19. Jahrhunderts: Der im Waisenhaus aufgewachsene Davey Haggart (John Hurt) desertiert aus der Armee. Er will in die Fussstapfen seines Vaters treten, der der gefürchtetste Schurke Schottlands war. Nur möchte Davey nicht wie sein Vater am Galgen enden. Dazu ist er den Mädchen zu sehr zugetan.

Sinópsis:
La acción transcurre en Escocia en el siglo XIX. David Haggart es un joven que deserta del ejército por lo que se le pone precio a su cabeza. Desde entonces su vida es una constante huida de la ley en la que pasa por todo tipo de correrías. Al final, consiguen él y su compañero de peripecias ingresar en la alta sociedad y en uno de sus bailes roban todas las joyas.

Esther Ofarim sings the very beautiful title song "Sinful Davey",
from which the original score by Ken Thorne is gone,
so this is a very rare piece of her! info + lyrics


buy this DVD at Amazon.de
or Amazon.com



DVD 2012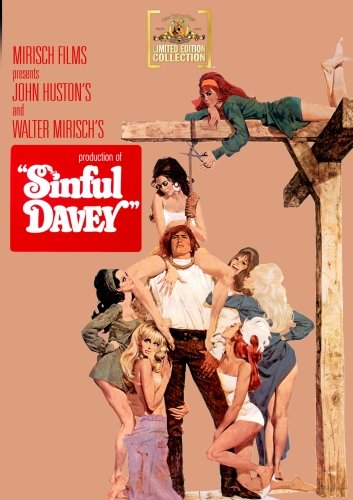 Sinful Davey
DVD in Original English language
Movie from 1969 with Esther Ofarim's title song info + lyrics + video

buy this DVD at Amazon.com
see Soundtrack CD of it here
* Actors: John Hurt, Pamela Franklin, Robert Morley, Fidelma Murphy
* Directors: John Huston
* Writers: James R. Webb
* Producers: John Huston, Bill Kirby, Walter Mirisch William N. Graf
* Format: NTSC
* Region: All Regions
* Number of discs: 1
* Rated: Unrated
* Studio: MGM
* DVD Release Date: March 27, 2012
* Run Time: 95 minutes
In 1821 a young Scotsman decides to emulate his father, a notorious rogue and highwayman. Unfortunately, he is handicapped by the fact that his childhood playmate is equally determined to track him down and save his soul...
This product is manufactured on demand using DVD-R recordable media.
This disc is expected to play back in DVD Video "play only" devices, and may not play in other DVD devices, including recorders and PC drives.

Esther Ofarim sings the very beautiful title song "Sinful Davey",
from which the original score by Ken Thorne is gone,
so this is a very rare piece of her! info + lyrics
buy this DVD at Amazon.com