September 17, 2011 in St. Augustin
10jährige Städtepartnerschaft mit Mewasseret Zion / Israel
concert with Esther Ofarim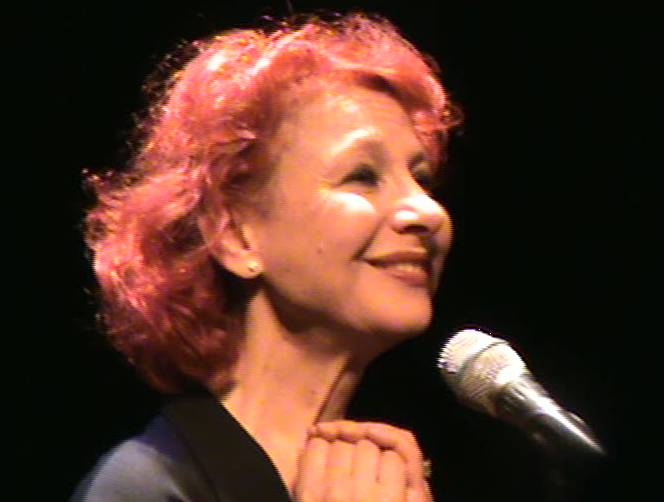 Esther did a great and very wonderful performing on September 17th in the Rhein-Sieg-Gymnasium. in St. Augustin.
See video of this concert here!

Song list:

My fisherman, my laddie-o
My lagan love
Hallelujah
Neula hi dalti
Willow
Leila Leila
The Partisan
She's leaving home
I'll see you in my dreams

Pause:
Miss July (Yoni Rechter)
Drunk (Yoni Rechter)

Pavane
Das Lied vom Surabaya Johnny
Me emek ve'give'a
Yesterday
Ma omrot eynaich
Over the rainbow
Alabama Song
Kinderspiele
Mad about the boy

Encores / Zugaben:
Cinderella Rockefella
Morning of my life
Shir aviv / Gruß

The musicians:

Arrangements, conductor and piano: Yoni Rechter
Violin: Michail Paweletz
Base: Micha Kaplan
Guitar: Bernard Fichtner
Watch my video of morning of my life here (to watch in hd click on 720p):

---
Info before the concert:
Esther will perform on September 17th in the Rhein-Sieg-Gymnasium., beginning 20:00 h
as a part of the celebration of the 10 year town twinning with Mewasseret Zion, Israel.
Address: Hubert-Minz-Straße 20, 53757 Sankt Augustin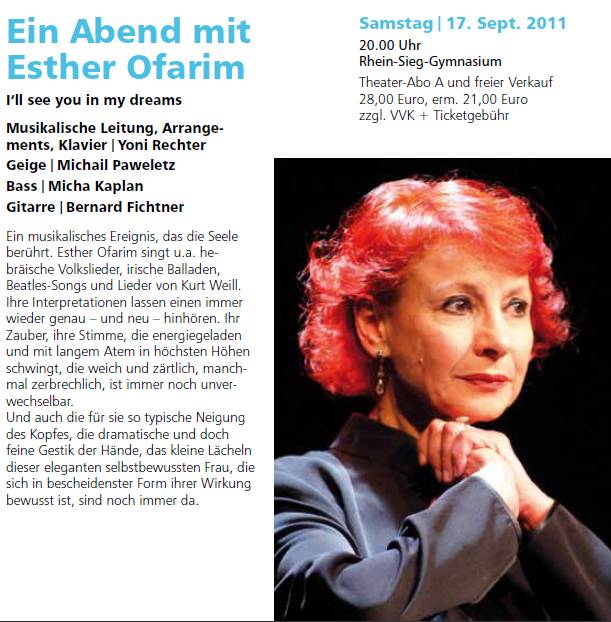 If you want to support this website, please buy your ticket here!
Wenn Sie diese Website unterstützen möchten, kaufen Sie Ihr Ticket bitte hier!