May 14, 2015 in Tel Aviv
Mann Auditorium
concert with Esther Ofarim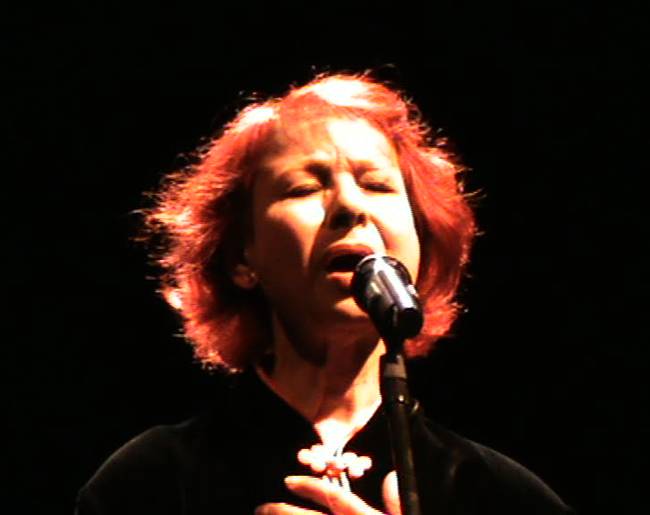 Esther Ofarim performed in concert on May 14 in the Mann Auditorium, Tel Aviv, Israel, 20:00 h.

Musical direction and piano: Yoni Rechter
Guitar: Yossi Levy
Brass: Guri Agmon
Flute: Ilan Salem
Bass: Juraj Oron
Percussion: Itamar Doari
Layla layla
Hitragut
Neula hi dalti
Besade patuach
Pavane
Hallelujah
Over the rainbow
Shir eres / dodo
She's leaving home
D'maot shel malachim
Moon of Alabama



Intermission
...
Midnight Dream (by Yoni)





Ma omrot eynaich (special duet with Yoni)
Ve'ulai
Bird on a wire
Speak low
Yesterday
Me emek ve'give'a (special duet with Yoni)
Shirat hanoded video
Hayu Leilot video
Mad about the boy video
Shir hanoded video
Ten li yad video
Cinderella Rockefella video
Adio Querida video

---
Info before the concert:

You can book tickets at number 9080 * (in Israel) or on zappa-club.co.i
The concert will be transmitted on glz.co.il

See article of the press, translated in English or the original Hebrew article.


Listen to an interview of Esther on iba.org.il, May, 2015,

English translation by Eytan Marva:
"She said that she is very happy and looking forward to the concert. She also said that she enjoyed a lot performing with Yehorm Gaon and staying in Jerusalem in June. She said that she thinks the 14-5 concert will be transmitted but she couldn't say on which station or Channel. To a question about the net she said that she knows there is a Facebook and even twitter but that she is not involved and that some people are taking care of this. The said that sometimes friends draw her attention to what is in there. Also she told that a lot of friends of hers are coming from Europe this time and that they are going to tour the Galilee. On a question as how she prepares herself for the concert she answered that she lives nearby a park with a lake in the center of Hamburg, so she walks there for an hour and she rehears and go through the lyrics by heart while doing that. Also she said that she plans to leave Hamburg and return to Israel."

Here (at 1:32) is also another interview with her (and with Yehoram Gaon) from May, 8th.
(For example she said that she had gotten requests for a studio album and maybe she'll do it.)